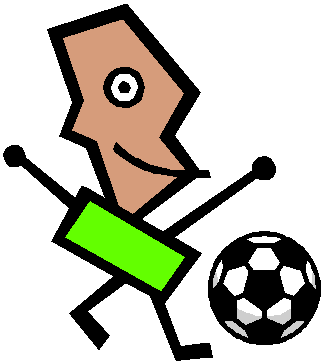 Division 1 - ages 5 and 6
Division 1 is our league entry point. Children must be at least 5 years old by September 1 to participate.
This is a very informal, unstructured playing environment. The play area is a large open space. Each week your child's coaches will mark off individual fields (small playing areas) with orange cones and arrange a game with an adjacent team (there is no formal game schedule at this level). As is the case in all divisions, each session is broken into practice and game segments. During the "practice" segment, the children play games like Freeze Tag, Ball Burglar, Knock-out and Capture - these are sneaky little ways of teaching soccer skills without the sigma associated with the word "drills".
Games are played 4 or 5 aside without a goalie and with a minimal amount of coaching. The concept is called "Playing Without Coaches" and it's designed to maximize fun and let the game do the teaching.
Equipment:
| | |
| --- | --- |
| | #3 soccer ball - Smaller and easier on the knees |
| | Shin guards are a must - Children are not allowed on the field without them |
| | Large water bottle - proper hydration is extremely important |